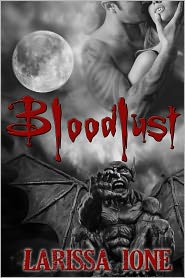 Bloodlust by: Larissa Ione
Cost: Free, Barnes & Noble
Blurb:
Sometimes, you don't need romance…
Sir Brynn of Lochland has a serious problem. He's been captured by an evil vampire queen who wants to use him as her newest blood slave. But Brynn doesn't have a submissive bone in his body, and he intends to fight her every step of the way.
Can Brynn's willpower remain intact when pitted against Sorla's superior vampire strength, seductive skills, and underhanded cruelty, or will she ultimately take possession of both his mind…and body?
* * * CONTENT WARNING: This is a VERY graphic erotic horror/fantasy novella. Expect blood, sex, some M/M content, and bad, bad words.
Review:
I was happy this one was so short. I don't think I would have finished it otherwise. I have no complaint about the way this was written, it was the content that disturbed me. And I'd like to note that I have enjoyed other titles by this author but this one was so graphic it wasn't really my cup of tea. It was more on the horror side than erotic.

On a side note I was amused to find the reviews
below
on the author's website for this book:
"I'm sure it's good, but no way am I going to read it." — Larissa's mom
"It's not the worst thing I've ever read." — New York Times bestselling author Stephanie Tyler
Sexual Content:
f/m,
m/m
At A Glance:
1= Could not finish the book
2= A struggle to read to the finish
3=Meh. Average with all the elements I like in a book but nothing notable
4= I ended it with a smile on my face
5=Excellent. I want to read everything this author has ever written and when I finish all the books on my wishlist I will reread it.