150 + Reading Challenge for 2012 Hosted by My Overstuffed Bookshelf
Allowed are: Audio, Re-reads, eBooks, YA, Manga, Graphic Novels, Library books, Novellas, Young Reader, Nonfiction – as long as the book has an ISBN or equivalent or can be purchased as such, the book counts.

Crossovers from other reading challenges count.

What doesn't count: Individual short stories or individual books in the Bible and comic books.
___________________________________________________
_______________________________________________________________
2012 Ebook Challenge Hosted by
Workaday Reads
Level 7 -
Human brain - 150 ebooks
Any genre or length of book counts, as long as it is in ebook format.

You can list your books in advance or just put them in a wrap-up post. If you list them, feel free to change them as the mood takes you.

You can move up levels, but no moving down.
________________________________________________
2012 Paranormal Romance Challenge Hosted by
Bitten by Paranormal Romance
Read 20 paranormal romance books from Jan - Dec 2012

Books must be more than 40,000 word count

No novellas, Urban Fantasy, or YA. Erotic is okay.

Review all 20 books and when finished go to linky with post and comment.


___________________________________________________
2012 New Author Challenge Hosted by
Literary Escapism
Level: 15
Guidelines:
Since this is an author challenge, there is no restriction on choosing your novels. They can definitely be from other challenges. However, the authors must be new to you and, preferably from novels. Anthologies are a great way to try someone new, but only a third of your new authors can be from anthologies.
I want this to be an easy challenge, so you can pick to do either 15, 25 or 50 new authors. It all depends on how fast you read and how adventurous you want to be. For me, I want to say I'm going to do another 50 new authors, but with two kids, I didn't made my goal in 2011, so I'm going to be smarter and say 25. If you reach your goal halfway through the year, don't stop. Any new author you try can be added to Mr. Linky. We all want to know about your new experience.
After reading your new author, write your review and then come back here and add your link to Mr. Linky. Make sure you include your name and the author, but adding the title is completely up to you.


__________________________________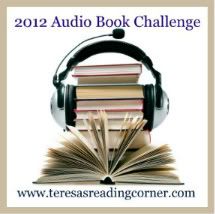 Level:
Going Steady- Listen to 12 Audio Books
There will be a monthly link up so that we can share what we've listened to and make suggestions to each other. Along with that monthly link up there will be a special monthly challenge so make sure you stop by each month!
_________________________________________________
2012 Why Buy The Cow? Challenge Hosted by
The Unread Reader
This reading challenge has been developed specifically for FREE and LEGAL downloaded books. As many of you with e-readers know, Amazon, Barnes and Noble, and a few other site periodically offer FREE books for your e-reading devices.
Every month in 2012, I will make a post for the Why Buy the Cow? Reading Challenge 2012 so you can link your reviews. Based on participation, monthly link ups may be combined.
Those that link their reviews will be entered into a drawing for a chance to win a different prize each month, such as an Amazon or Barnes & Noble Gift Card, a bookmark, or a GelaSkins for your e-Reader.
When you post your book review, you MUST reveal how you obtained the free & legal download. Please make your source clear.
You can list your books in advance or list them as you read them.
Crossovers to other reading challenges is acceptable, but ARCs/galley e-books DO NOT count. Again, this is a Reading Challenge to read as many of the FREE e-books legally offered for your e-reader.
Level: Penny Pincher: 24 Books
________________________________
2012 Erotic Reading Challenge Hosted by
Getting Naughty Between The Stacks
Level:
Topless- Ten Books
For this challenge you can read any erotic title of your choosing in any sub-genre.
Books can be short stories, novella's, novels, anthologies or whatever. They can be print, audio, and/or ebook format. You're also welcome to use the books from other challenges.
Bloggers when you've completed the challenge go to The Erotic Reading Challenge page(that's this page) and link to your wrap up post.
At the end of the year, I'll take all participants who linked/emailed their completed challenge and enter them for a prize yet to be determined. I can say it will be naughty and erotic.