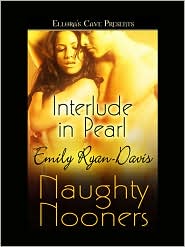 Author:
Emily Ryan-Davis
Title:
Interlude in Pearl
Format:
Ebook (Free on Barnes & Noble)
Print Length:
<50
Published:
February 2010
Get it on Amazon
Get it on Barnes & Noble
Cost: Free Barnes & Noble
Previous books in the series
1 -
All the Trees in Pearl
2 - All the Women in Pearl
Blurb:
Twin Mountains Ranch foreman Mickey Lowe can't sit through one more night of newlywed relations without losing his mind. Packing up his frustration and yearning, he delivers himself to Pearl spinster Emma Morgan with the intent to inspire some lusty cries of his own.

When the cowboy comes knocking at Emma's door late in the night, she believes she knows what he wants and she is ready for him in an instant . . . until she discovers what he's really after.
My Review:
This short story was an enjoyable snapshot of a moment in two peoples lives. I am definitely going to check out the other books in the series. Sexy and sweet.
Rating: 5 out of 5