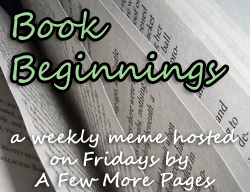 Book Beginnings is a weekly Friday meme hosted by A Few More Pages.
How to participate:
Share the first line (or two) of the book you are currently reading on your blog or in the comments. Include the title and the author so we know what you're reading. Then, if you would like, let us know what your first impressions were based on that first line, and let us know if you liked or did not like the sentence. The link-up will be at
A Few More Pages
every Friday and will be open for the entire week.
Here is mine:
"When I wake up, the other side of the bed is cold. My fingers stretch out, seeking Prim's warmth but find only the rough canvas cover of the mattress."
I love how this book starts. It is so simple and I feel like I just jump right into the story. I'm looking forward to this read. EVERYONE keeps telling me how much I'm going to love it.